WE'RE OPEN FOR THE 2016 CHRISTMAS SEASON!
There's a chill in the air, the turkey's all gone,
And you've raked crunchy leaves from your porch and your lawn.
So now is the time to untangle the lights,
Bake Christmas cookies and snuggle down on cold nights!
Put the kids in the car and set out on your mission
Of finding a tree. It's family tradition!
Bring your own handsaw, or we've some to lend.
All leashed dogs are welcome. We LOVE furry friends!
Know what sized tree you need. Remember "Christmas Vacation"?
And scroll through our website for more information.
All weekends 'till Christmas, we're here 10 to 4,
So come get your tree and a wreath for your door!
Welcome to A Snowball's Chance Tree Farm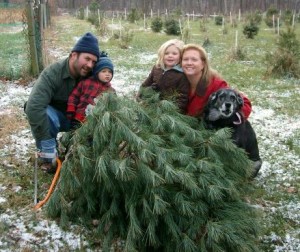 We are a family owned and operated choose & cut tree farm conveniently located in Baltimore county near the Howard and Carroll county lines.  So bundle up the kids, put the dog on a leash and bring your handsaw (or borrow ours), and set out on the adventure to find your perfect Christmas tree.
Location
10760 Marriottsville Rd
Randallstown, MD 21133
Hours of Operation
Opening Day Friday,  the day after Thanksgiving 2016 10am-4pm
All Weekends between Thanksgiving & Christmas 10am-4pm
Contact us asnowballschancetreefarm@gmail.com