Thanks for visiting us and supporting a local, small family farm this Christmas season.  We wish for you, the upcoming year be filled with blessings and prosperity.  Keep in touch, and visit us next year as we will open the FRIDAY AFTER THANKSGIVING 2017!
Welcome to A Snowball's Chance Tree Farm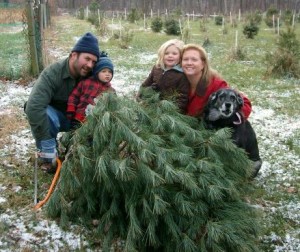 We are a family owned and operated choose & cut tree farm conveniently located in Baltimore county near the Howard and Carroll county lines.  So bundle up the kids, put the dog on a leash and bring your handsaw (or borrow ours), and set out on the adventure to find your perfect Christmas tree.
Location
10760 Marriottsville Rd
Randallstown, MD 21133
Hours of Operation
Open the Friday after Thanksgiving, and weekends until Christmas 10am-4pm

We ARE, however, entertaining the idea of opening on Fridays, as well as weekends next year.  Check back next fall for details.
Contact us asnowballschancetreefarm@gmail.com