CLOSED FOR THE 2017 CHRISTMAS SEASON!!!

Thanks, in part, to the media's inflation of the fact that there is a slight Christmas Tree shortage this year, we (as well as many other Choose & Cut tree farms) have seen record numbers of EARLY tree hunters this season.  Though great for our bottom line, this isn't so great for our inventory management.
You see, if people who are looking for an 8′ tree can't find anything they like, then they'll take the 6′ tree instead.  The problem with that is that that 6′ tree is NEXT YEAR'S 8′ tree.  In order to be able to consistently offer our customers a wide range of sizes, shapes and species, we have elected to follow the footsteps of other local farms in closing early for the season.
Thank you to everyone who came out to get a tree this year.  We truly enjoy meeting everyone, petting your dogs, and getting to watch your children grow up!  Merry Christmas, and we will REOPEN for the 2018 season on the Friday after Thanksgiving!
Welcome to A Snowball's Chance Tree Farm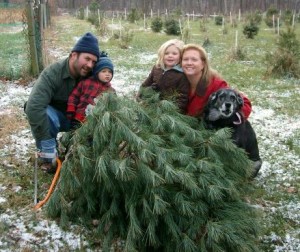 We are a family owned and operated choose & cut tree farm conveniently located in Baltimore County near the Howard and Carroll County lines.  So bundle up the kids, put the dog on a leash and bring your handsaw (or borrow ours), and set out on the adventure to find your perfect Christmas tree.
Location
10760 Marriottsville Rd
Randallstown, MD 21133
Hours of Operation
2018 Opening Day is the Friday after Thanksgiving.

Contact us asnowballschancetreefarm@gmail.com