Thank you all so very much for making the 2015 Christmas Tree season our best one so far!  We really enjoyed seeing some old faces….some who have been "choosing and cutting" with us since we first opened in 2012, and were excited to meet new customers, hoping that they too, will become "old faces" in the years to come.
We are now CLOSED for the 2015 season, but you can count on us reopening the               DAY AFTER THANKSGIVING in 2016.
Enjoy a wonderful Christmas and New Year with your family, and remember to                      CHECK YOUR FRESH TREES FOR WATER DAILY!!! 
Welcome to A Snowball's Chance Tree Farm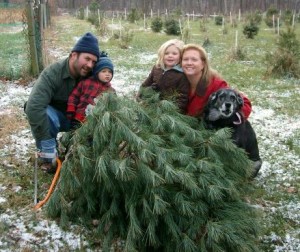 We are a family owned and operated choose & cut tree farm conveniently located in Baltimore county near the Howard and Carroll county lines.  So bundle up the kids, put the dog on a leash and bring your handsaw (or borrow ours), and set out on the adventure to find your perfect Christmas tree.
Location
10760 Marriottsville Rd
Randallstown, MD 21133
Hours of Operation
Opening Day Friday,  the day after Thanksgiving 2016 10am-4pm
All Weekends between Thanksgiving & Christmas 10am-4pm
Contact us asnowballschancetreefarm@gmail.com